Zena Cosmetics Serum Ampoules are formulated with hyaluronic acid as the base composition.
Each serum has been specially formulated meticulously in laboratories to target a variety of different skin concerns that have been trialed and tested to ensure their effectiveness.
10 Piece Kit Includes:
Botox Alternative 
Alternative to Botox without injections. Based on peptides of neuromodulators that weaken muscle contraction.
Astaxanthin and vitamins
6,000 times more powerful antioxidant than vitamin C, and helps prevent visible signs of aging. This super antioxidant serum will help repair and protect the skin from premature aging by naturally boosting collagen and elastin production by stimulating cell renewal, diminishing the appearance of wrinkles, fine lines, and dark spots, while increasing healthy circulation for a youthful, luminous complexion.
Caviar and copper peptide wrinkles, fine lines & hair loss rejuvenation
Restores the natural elasticity of the skin, makes the skin smooth, gives a radiant, youthful, and healthy look. Copper peptides enhance collagen synthesis in fibroblasts.
Can also be used as a hair loss rejuvenation treatment to promote hair growth and prevent further hair loss.
Collagen Hyaluronic solution
Contains matrix peptides that penetrate the deep layers of the skin which triggers and stimulates cell renewal and has a powerful anti-aging effect. Assists in smoothing fine lines and reduce wrinkles.
Eye Care Anti Age Wrinkle & Dark Circle Complex
Liquid gold for the eye area to target a variety of concerns: anti-aging, firming-lifting effect, hydrating, reduction of dark circles, and puffiness.
Low Hyaluronic acid
Hyaluronic acid absorbs approximately 1,000 times its own weight inside the extracellular matrix of the skin. It plumps skin and enhances the volume to create that firm yet soft and supple skin.
Nine Peptide Moisturizing
Contains 9 active peptides designed to achieve maximum effectiveness providing visible results. Helps to moisturize, repair skin tissue, restore microcirculation in different layers of the skin, and normalizes the condition of vascular walls.
Q10 Elastin Hyaluronic
Full of antioxidant properties that protect the skin from environmental stressors. It energizes the skin and helps it retain moisture. 
Scars, stretch marks & Hair loss solution
The regenerating effect, prevents inflammation, promotes collagen and elastin production. Also helps in restoring existing scar formations and stretch marks. High content of Rutin has anti-couperose (rosacea) effect. Targets Hyperpigmentation, age spots, Rosacea, Inflammation, irritation of the skin, Blemishes, brightens skin tone, and Antiseptic effect
24k Gold Hyaluronic acid
It imparts an opulent, radiant glow and locks in moisture for ultra-hydrated skin. This concentrated treatment helps to reduce the look of fine lines and wrinkles, leaving skin looking silky smooth, firmer, radiant, revitalized, and youthful.
Can be mixed in with Zena Algae Peel for targeted treatments, or used with micro-channeling, and electroporation
 Kit includes 10 Ampoules, 10ml each
3 Year Shelf life (Use within 6 months of opening (secure lid on ampoule and store in fridge)
Indications

Apply as a serum or nano-needle into the skin
View full details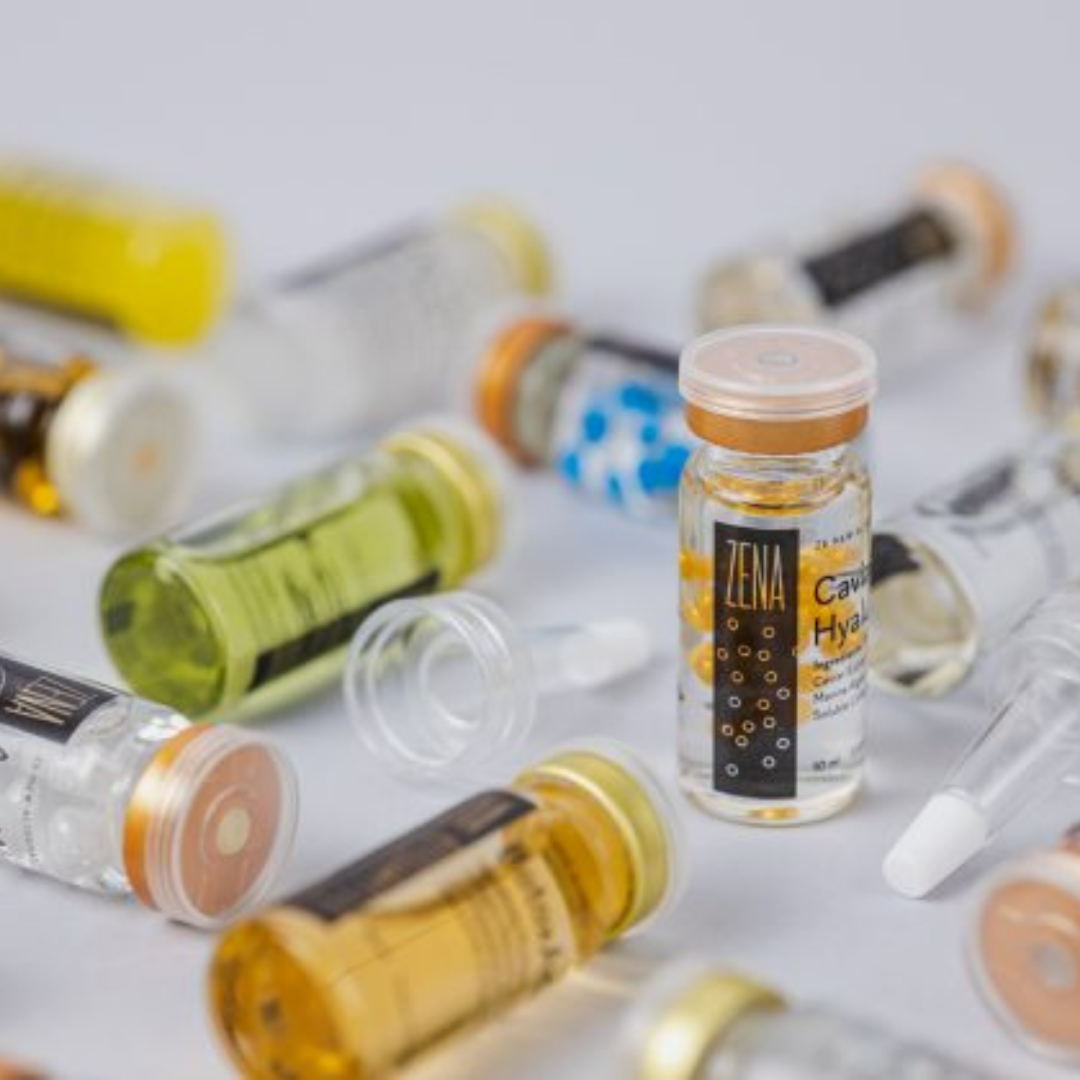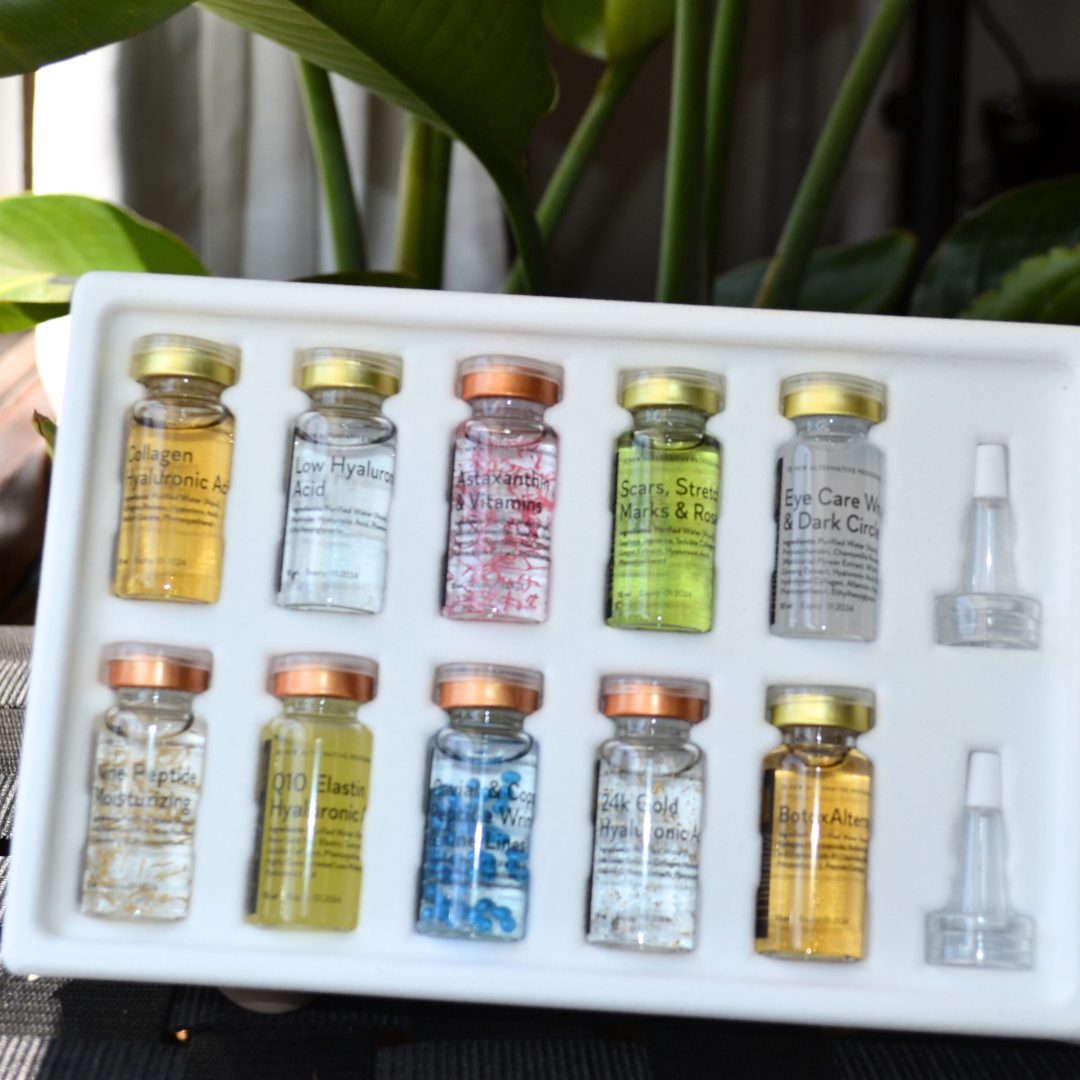 Fast shipping

We pride ourselves on fast shipping--not necessarily Amazon-style, but for a small business, pretty fast. In most cases we ship within 24 business hours.